Simplicity contained in six pieces of wood
Excerpts from an Article By PAUL FATTIG
Published in the Southern Oregon Mail Tribune
Paul Firnstein didn't start out in life to become a maker of caskets. "I got into this business because of a need we had here," said Firnstein, 61, of Ashland.
After doing some research, he and some friends made a couple of plain wooden caskets that were inexpensive and contained no metals, no animal-based glue, and no plastics or linings. "Next thing you know, we started getting calls from Klamath Falls and Eugene for our caskets," he said.
That was in 1993. He and a friend started Ark Wood Caskets, which Firnstein now owns.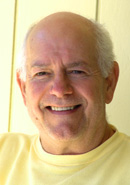 The caskets are designed to go into the ground in a very natural way. "They meet the dust-to-dust requirements in the Bible," he added, noting the pine will disintegrate quickly. "It's very earth-friendly."
"A lot of my business is from different religious groups," he said. "Franciscan monasteries back East want a simple pine casket. Many American Indian families and Buddhists or Muslims also want simple caskets that go into the ground in an easy way. Also, Jewish families can get an affordable casket that is certified by a rabbi to be appropriate for a Jewish burial."
Indeed, these are not expensive coffins with a satin bed and pillow and shiny brass handles. They are simple, dignified caskets made of pine. They are shipped in a box of six pieces which are easily fitted together by tapping in self-gluing dowels. One inch thick soft rope handles provide strength and ease of carrying.
Firnstein said the act of assembling a casket brings loved ones together. "It's a loving act that starts the healing process," he said. "It brings it all home. They put it together themselves. It's a loving symbol of their respect for that person," he added. "They are doing it just to honor that person's remains."
Firnstein makes 50 to 75 caskets at a time, using the same dimensions. "They have the standard size plot in the cemetery," he said. "You don't want to get too big or elaborate or it won't fit." When Firnstein ships the casket, the pieces are laid flat. "You get six pieces of wood in a box five inches thick," he said. "When you put the pieces together, they have to fit together securely yet easily."
Before he began making caskets, Firnstein was a consultant in California, doing radio programming and making commercials. In addition to building caskets, he also works as a hospice caregiver, a job that has given him added perspective on families and funerals. "Most families don't want to think about funeral issues while a dying loved one is still alive," he said. "But that really is the time to make plans for what will happen."
"When that person dies, you are not in shape to be making sound decisions," he said, noting that is when people can be taken advantage of. "There is a lot people can do, but they have to plan ahead. Listen, everybody is going to have a death in their family." But, it doesn't have to cost a fortune. "I think more and more people don't want fancy caskets," he said. "They don't want to spend $8,000 or whatever on a cherry casket. That money is much better spent giving it to the person's favorite charity than putting it in the ground." When his time comes, Firnstein knows, "I'll be buried in a simple box."