EARTH FRIENDLY: Absolutely no metals, plastics, stains, varnishes, or oils are used in our caskets, and our glue contains no formaldehyde. To help restore America's forests, we plant a tree for every pine casket purchased.
THE ARK ECONOMICAL DESIGN: Our special dowling system allows caskets to ship flat and store compactly, saving greatly on cost. When the casket is needed, you join the six panels by simply tapping in our self-gluing dowels. This easy assembly takes 30 minutes or less. Soft rope handles provide strength and ease of carrying.
*** THE ARK IS PRICED AT JUST ***
$639 plus shipping!
YEARS OF SERVICE: Ark Wood Caskets has served individuals, congregations, burial societies, and funeral homes since 1993.
Standard Size: 80in x 25in x 16in
Inside Measurements: 78in x 22in x 14in
Talking about and planning a funeral whether it's for yourself or a loved one is never easy. After twenty-three years as a casket maker and nine years the president of a burial society, I can say with some confidence, the worst thing you can say to your family is "I don't care do what you want with me."
When the time comes there will be differences of opinions and unnecessary conflicts over what and how things should be done.
Do the right thing and talk about your likes and dislikes and then you can write a small note about your wishes and put it with your will and other important papers. Your family will really appreciate it .
If you want to pre buy a funeral plan or a casket shop around it's ok. Some folks like something simple and not the price of a new car. They don't want their loved ones spending a lot of money on something that they would not have bought for themselves.
So can you pre-buy a casket other than at the Funeral Home.
The answer is yes. The problem is that a casket takes up plenty of room no matter where you store it.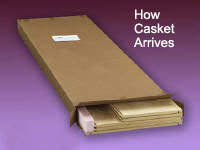 The Ark Wood Casket is very easy to store and is well packed in a double walled cardboard box. It will come out of the box in the same condition that I put it in there. How do I know that, because I sold a casket to my friend George and he had it in his garage for 21 years and on a visit not to long ago he told me he changed his mind about burial and will be cremated instead and would I take the casket and donate it to someone in need.
I have to admit I was very curious to what I would find in the box. The casket was in fact in the same condition that it was when I packed it up 21 years before. What could damage the casket while in storage, well I know real cold weather or real hot weather will not do any damage to it because I have stored them in conditions like that. The only thing that will hurt the casket (besides dropping it off the back of a pickup) is WATER.
Keep it dry and it will serve you well no matter how long it's in the box.
So just how easy is it to store? The size of the box I ship them in is 82" long by 25" wide and just 5" deep. This is smaller than a twin mattress in it's box. The weight is 95 lbs.
Casket Kit Assembly
Assembly of the casket kit can be done by one person but two people make it easier. There is no metal used in this casket, no screws, nails, or staples. The casket is put together with hardwood dowels which have the glue dried right on them so one drop of water in the dowel hole and tap in the wood dowel.
The thick 1+1/8" rope handles are soft to the hand and very strong helping the casket carry up to 300lbs.
By choosing an Ark Wood Casket Kit you will have the peace of mind that you have just what you wanted and at a sizeable-savings from other retail casket sellers.
A Simple pine casket fulfilling your spiritual, cultural & economic needs.
Greetings,
In January of 2016, my wife and I purchased one of your casket kits for my wife's mother who was 96 at the time and doing very poorly. We wanted to be prepared as she was Jewish and burials happen quickly. We bought from you both because of the kit's attractive price and because as a former woodworker I had built many things for my mother-in-law. It only seemed appropriate for me to be involved with her casket.
To paraphrase Mark Twain, the rumors of her demise were premature. She did pass this past month, after celebrating her 99th birthday with much of her family. I was concerned about the casket kit as it had been stored in our unheated garage which would go from cold and very damp in the winter to hot and dry. Of course, as I now see with the 21-year-old casket kit experience highlighted on your website, the casket kit was perfect. It went together very easily and looked great. In fact, the director of the funeral home was very impressed with the quality and told us he intends to use your caskets in the future.  I hope you receive some orders from them.
In summary, we could not be more pleased with your product and your helpfulness in providing good references for us back in 2016. While this has been a difficult time, it was a solace to have this work out so well and to have my mother-in-law buried in a casket I assembled.
Very best regards,
Howard and Sherri
Kingston, WA
Simplicity contained in six pieces of wood
Excerpts from an Article By PAUL FATTIG
Published in the Southern Oregon Mail Tribune
Paul Firnstein didn't start out in life to become a maker of caskets. "I got into this business because of a need we had here," said Firnstein, 61, of Ashland.
After doing some research, he and some friends made a couple of plain wooden caskets that were inexpensive and contained no metals, no animal-based glue, and no plastics or linings. "Next thing you know, we started getting calls from Klamath Falls and Eugene for our caskets," he said.
That was in 1993. He and a friend started Ark Wood Caskets, which Firnstein now owns.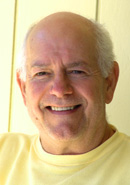 The caskets are designed to go into the ground in a very natural way. "They meet the dust-to-dust requirements in the Bible," he added, noting the pine will disintegrate quickly. "It's very earth-friendly."
"A lot of my business is from different religious groups," he said. "Franciscan monasteries back East want a simple pine casket. Many American Indian families and Buddhists or Muslims also want simple caskets that go into the ground in an easy way. Also, Jewish families can get an affordable casket that is certified by a rabbi to be appropriate for a Jewish burial."
Indeed, these are not expensive coffins with a satin bed and pillow and shiny brass handles. They are simple, dignified caskets made of pine. They are shipped in a box of six pieces which are easily fitted together by tapping in self-gluing dowels. One inch thick soft rope handles provide strength and ease of carrying.
Firnstein said the act of assembling a casket brings loved ones together. "It's a loving act that starts the healing process," he said. "It brings it all home. They put it together themselves. It's a loving symbol of their respect for that person," he added. "They are doing it just to honor that person's remains."
Firnstein makes 50 to 75 caskets at a time, using the same dimensions. "They have the standard size plot in the cemetery," he said. "You don't want to get too big or elaborate or it won't fit." When Firnstein ships the casket, the pieces are laid flat. "You get six pieces of wood in a box five inches thick," he said. "When you put the pieces together, they have to fit together securely yet easily."
Before he began making caskets, Firnstein was a consultant in California, doing radio programming and making commercials. In addition to building caskets, he also works as a hospice caregiver, a job that has given him added perspective on families and funerals. "Most families don't want to think about funeral issues while a dying loved one is still alive," he said. "But that really is the time to make plans for what will happen."
"When that person dies, you are not in shape to be making sound decisions," he said, noting that is when people can be taken advantage of. "There is a lot people can do, but they have to plan ahead. Listen, everybody is going to have a death in their family." But, it doesn't have to cost a fortune. "I think more and more people don't want fancy caskets," he said. "They don't want to spend $8,000 or whatever on a cherry casket. That money is much better spent giving it to the person's favorite charity than putting it in the ground." When his time comes, Firnstein knows, "I'll be buried in a simple box."